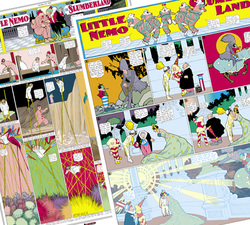 ORDER NOW TO GET OUR SPECIAL 'PRE-ORDER' DISCOUNT! CLICK HERE!
Our first two MASTERS SERIES prints are now available for pre-order!
If you order before January 20, 2015, you'll get two 18 x 14 inch, 2 sided prints for $12.50 each, plus shipping. That is a $15 savings!
Each of these limited edition of 1000 copies are hand signed & numbered by Michael Kelleher to authenticate this first run restoration.
Shipping will begin on January 27, 2015.
Here is an in-depth look at the first print and the work that went into restoring this masterpiece...
LITTLE NEMO IN SLUMBERLAND by Winsor McCay
Original publication date October 29, 1905

Our first restoration is the third Little Nemo Sunday strip produced by McCay and marks the first time that we get to see Nemo's Mama.

Being the first illustration that we tackled for this series, we quickly realized that restoration would not be the cake-walk we were expecting.
Back in 2012… After almost a decade of working on 'Marvel Masterworks' and 'Dark Horse Archives' series, we thought that we were more than ready to handle work on a dream project of mine… Little Nemo.
With a little research we were able to obtain high quality scans of the original art and an original printing of the Sunday comic strip, which is very similar to how we handle our Marvel and Dark Horse projects… the similarities ended there.

In a standard comic book, the colors are broken up into ( usually ) easy to decipher patterns of dots or lines which translated into a percentage of color. For example, Caucasian skin color in most comics consisted of 0% Cyan, 25% Magenta and 25% Yellow… The sky was often a 25% or 50% cyan… Brown hair was 25% cyan, 50% magenta and 100% yellow. Very simple formulas, all limited to 0, 25, 50 or 100 percent of the colors cyan, magenta and yellow. That standard was used throughout just about all of Marvel comic history up until the 1980's.

Well, it turns out that back in 1905, those percentages were far from standard.
It took us years of research to find out how colors were laid out for print in the early 20th century, and the results of our research taught us that color separations ( the process of creating a separate plate for each of the CMYK colors ) was a literal art form in itself.
I'll save that story for another post. For now, lets talk about the artwork on this strip...


I've never learned to not be amazed when I see the detail lost when old comics were sent to print.
The first thing we noticed on this piece was the background of the first panel. The details of the bushes, pillars and fence were mostly obliterated in all of the original printed copies that we found. The black dots added in the coloring process, which were supposed to ad a little darkness to the green color, obscured a lot of wonderful line work.


Although I'll get into more detail on colors in another post, it's worth showing an example of the restored color. The lack of a standard magenta and cyan ink in the early days of comic publishing guaranteed that there would be numerous versions of red and blue throughout the various print runs of the strip across the country. In this copy you can see that the magenta colors were printed using a more 'red' ink which added extra yellow to anything affected by the magenta plate.

And, of course, there is frequently a situation where original art is either damaged or just missing sections, and in those cases, we rely on the printed strip to give us the information we need to piece in the information. This is where our experience with printing and deciphering printing problems gives us the ability to determine intended line thickness and quality of the missing artwork.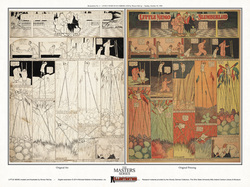 The back of each print is a scan of the original art and one of the tear sheets that we worked from in restoring the illustration on. For every print we restore we obtain as many original printed references as possible so that we can compare colors and determine the true color to highest degree of accuracy available, short of having the original color guides at our disposal. One version may reveal information that didn't print correctly on another version, and we use clues like that to help determine our choices.

Check back with us soon as we unveil details on the second print in this set, Little Nemo in Slumberland dated July 15, 1906.