ORDER BEFORE JANUARY 20, 2015 TO GET OUR SPECIAL 'PRE-ORDER' DISCOUNT! CLICK HERE!
Have you ever purchased a brand new newspaper? You know, a newspaper that was printed on the date that you bought it? Was the paper yellow… of course not.
One of the things that baffles me most is when people want their comic book reprints to 'look like the original printings', and they think that should include yellowed paper and faded colors. 'Old' comics DIDN'T look like that when they were first printed. That is how those old comics look now, after years of unavoidable deterioration.
Wanting reprinted comics to look yellowed and faded makes as much sense as manufacturing a new, rusted out, beat-up version of a classic automobile.
Hop into your time machine, head over to your favorite newsstand in 1942 and open any comic book… the paper isn't yellow. It certainly isn't bright white, but it is FAR from yellow.
Newsprint is a very low quality paper, and, depending on the conditions, will turn yellow relatively quickly. If you leave the paper out in the sun it may begin to turn yellow in a few days. Keep it on a table indoors and it could take months. Leave it in a box in a cool, dark attic, and it can take decades. The point is, comics weren't printed on paper with the intention of giving you a yellow background. It was white, and it was intend to be white… well, more accurately, an off-white.
It was simple economics… newsprint was cheap. One hundred years ago, publishers never dreamed that comic strips, and eventually comic books, would ever be enjoyed for more than a handful of readings before being tossed into the trash or fireplace. Artists and publishers didn't consider the eventual yellowing of paper when choosing their colors. Sure, they may have taken into account the low quality of the ink coverage, and may have learned to adapt to the lack of standards when it came to CMYK ink choices ( which is actually the main point of this post, but bear with me ), but yellow paper was never a consideration.
The yellowing of the paper obviously affects the colors of the ink, which were usually printed poorly anyway, but not at he time of printing. When you print a transparent ink color on yellow paper, that ink color will look like it has yellow added to it.
The combination of the aging, yellowing paper and crummy printing means that you aren't seeing what the artist expected you to see. It is NOT what old comics are supposed to look like.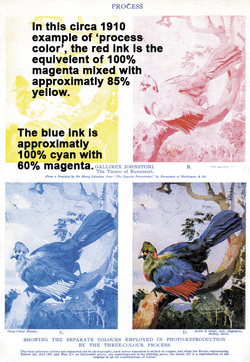 Back in the old days of printing, there was a problem that kept the viewer from seeing what the artist wanted you to see, and that was the ink color itself.

In the four-color process, cyan, magenta, yellow and black ink were printed one on top of another to create the color combinations dictated by the artist and/ or production department. Oddly, there was no real standard for ink colors in the early days of printing. Cyan and magenta were commonly replaced with any of a number of shades of red or blue ink. Of course, red ink can span the spectrum from a red-purple to a red-orange, and blue from a blue-purple to a blue-green. If you use a blue-purple, everything that should be blue will have a touch of red/ magenta in it… blue-green will add a hint of yellow into anything blue… etc…
It turns out that not all printers were using the same red, blue and yellow inks. Some were using the fore-mentioned reddish-purple and/ or blueish-green, orange-yellow, and so on. We've even seen instances where it appears that the ink color may have been changed in the middle of a print run, so the first few thousand copies had a nice cyan ink, but later looked like a 'reflex blue' which is a popular, violet-blue ink color.

Now, considering that a New York newspaper printed Sunday funnies and a California publisher would print the same comic strips on different presses, there were bound to by many different colors used throughout the country. So, if you saw a copy of a 'Little Nemo in Slumberland' strip printed in New York, the colors could, and often did, look different from a copy of the same exact strip printed on the same day on the West Coast. The reds might look orange on one copy and magenta on another.

But few people would ever know, and nobody really cared. This was disposable entertainment.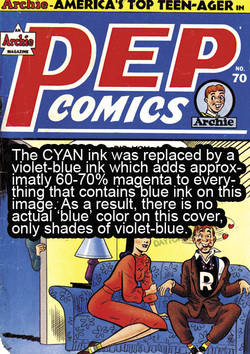 What I found during my research is that this problem didn't seem to be limited to cheap comics. Even early full color photograph printing seemed to suffer from the same lack of consistency with ink colors. Of course, photograph printing often went without a black plate, necessitating a slightly different base ink palette, but the inconsistencies appear to be there anyway.
I also found that printers were often using incorrect inks even decades after CMYK inks became standard.

A lot of the ARCHIE line of comics in the 1940's were printed with a blue ink that contained quite a bit of red in it, creating dark, and often muddy colors. We even encountered a few 1960-70's comics from various publishers that obviously strayed from the standard cyan and/ or magenta ink. Assumably, it could be easily explained by a simple error like grabbing the wrong can of ink of the shelf, or maybe the printer ran out of the real cyan ink that afternoon and was forced to improvise by using a similar color that they had available. Except in severe cases ( Marvel Comics #1 being a famous example ) comic publishers were pretty accepting and understanding of the relatively low quality that affordable printing could provide.
NOTE: When discussing this topic in the past, I've been asked "Couldn't they have changed the ink on purpose in coordination with the artists and printers?". I have two answers for that, and both are 'no'… 1) Logically, Aside from the extra planning and cost necessary to pull this off, the colorists would also need to stray from the standard comic color palette and create an entirely different palette which would be a huge amount of time and money for little-to-no payoff. After all, few people, if any, would have said "Hey! That blue don't look right!"… and 2) The comic colorists that I have had the pleasure of speaking to tell me that's not the case. Comic colors were chosen using the standard 64 color palette, and assumed the use of CMYK inks.

At some point, comic colorists began to realize the limitations of printing and how it affected comic colors and began altering their color choices. They knew that the purple they wanted would end up looking more like blue in print, so they chose a color that technically should look more red, knowing that the magenta would probably be less apparent in the final product. Of course, that was a guessing game too. Sometimes, the printers would surprise and give a really good representation of the art and colors… or, of course, they may err in the complete opposite direction and the reader would see something that looked almost completely magenta. There was no way to be accurate back then, and they knew it.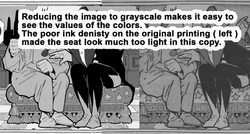 Maybe one of the biggest problems that a comic book reader would see, but be unaware of was how the poor print quality affected color value.
If you know anything about art, you are probably aware of 'color value'. Very simply, 'value' is how dark or light a color is. You put a dark color near a light color and you have 'contrast' which is the noticeable difference between two colors. Value is one of, if not THE, most important concept in creating art that tells a story.
Poor printing was devastating to value in comic books. The problem lies in the fact that old technology didn't give us 100% of a single color. For example, if these old publishers printed three solid boxes on a sheet of paper... one cyan, one magenta and one yellow… and each box was intended to be a 100% solid color, none of them would print at 100%. At best we may see a 90-95%, but most often we saw somewhere in the 80-90% range. That means that a color that the artists wanted you to see as a solid green background of 100% cyan and 100% yellow, would look MUCH lighter than that. PLUS, the yellow and cyan would not print at the same levels, so you would more likely see something like a 75% yellow and 90% cyan, resulting in a hue that was more blue than intended. And, of course, your friend that collects comics could very well have a copy of that same book where the problem was reversed.
This meant that the colors that were carefully chosen based on how light or dark they were, often failed to achieve the desired effect in print.
I could go on and on, but I think you get the point… Reprinting comics directly from scans of printed material may be aesthetically pleasing as they remind you of the books you loved as a kid, and it certainly makes the reprints MUCH more affordable, but they are usually a disservice to the brilliant work that went into creating the artwork.
Sadly, there is no realistic way that all comics can be restored with the care and diligence that we put into projects like MARVEL MASTERWORKS or our MASTERS SERIES. These types of restorations are very expensive and time consuming. Most publishers have to make the difficult choice of giving their readers immaculate restorations of a few good pages/ issues, or give acceptable quality scans of complete stories and full runs of titles, and that means that a lot of brilliant artwork is being preserved in an inferior manner.
So, PLEASE, I'm literally begging you… support our
MASTERS SERIES
of art restorations.
I hope you agree that what we are doing here is important. We want to preserve the brilliant artwork of geniuses past so that future generations can see this wonderful work in the manner in which it was intended.