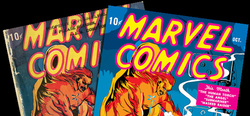 KELLUSTRATION is one of the largest digital comic art restoration services in the world.
Since 2004, Kellustration has restored art and colors for thousands of comics including some of histories most important books and titles.

MARVEL COMICS #1, AMAZING FANTASY #15… THE AVENGERS, THE HULK, GUARDIANS OF THE GALAXY… TARZAN, THE GREEN HORNET, DOC SAVAGE, VAMPIRELLA, USAGI YOJIMBO, LITTLE NEMO IN SLUMBERLAND and HUNDREDS of other titles and characters.

Wether working from film, original art, or printed references, our restoration artists have the skill and experience to restore any style of art. Unlike other restoration services, we have the expertise to go well beyond the simple 'scan & clean' method. We restore line art and colors to the highest degree of accuracy and quality possible.
Contact us at info@kellustration.com for details and pricing information.



---